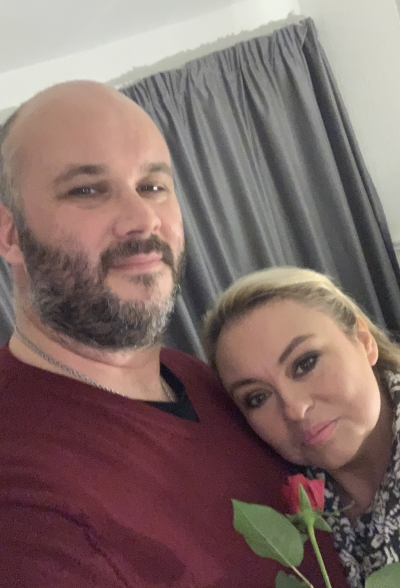 HOW WE MET...
Following a year of focusing on improving themselves, it could be said that John and Emma's meeting was destined to be... although John might have wished it was under better circumstances...

After a rather heavy New Year's eve drinking session, where many a cider, Jack Daniels and Kraken rum was drunk, John was feeling slightly worse for wear. After a large cooked breakfast with friends to soak up the alcohol, he returned to the scene of the crime to wait until he was no longer nauseous and the headache had passed...

To speed up the process, a young attractive lady came to the house to wish her friends a Happy New Year, where she found a large bearded man, shrouded in thick jogging bottoms and heavy hoodie huddled up on a comfy seat feeling slightly sorry for himself. A coffee was offered to the man to help the sobering process, the man accepted, and yet the lady proceeded to embark on a long conversation with her friend...

The man heckled the lady to hurry up the coffee making process, and upon slapping his thigh whilst using the endearing term 'chop, chop', the two looked at each other, and instantly knew that 'THIS WAS IT'!!!
THE PROPOSAL...
John's proposal was about as far from a romantic gesture as it could get; getting married had been talked about for a while and unbeknownst to Emma, a ring had already been acquired !

But on 30th August 2018, after waiting patiently for nearly 6 months, John, without asking the 'official question', simply took Emma's hand, and slid on the ring, telling Emma 'I've been waiting for the right time and now IS the time!'